I'm a motivator, and an instructional designer of critical thinking in classrooms where the impossible is simply the untried. I've shown that second language is not an impediment, but an advantage in places where there is still a need to instill in the eager young minds the necessity to strive for authenticity and the strength to contribute an individual voice to the collective good.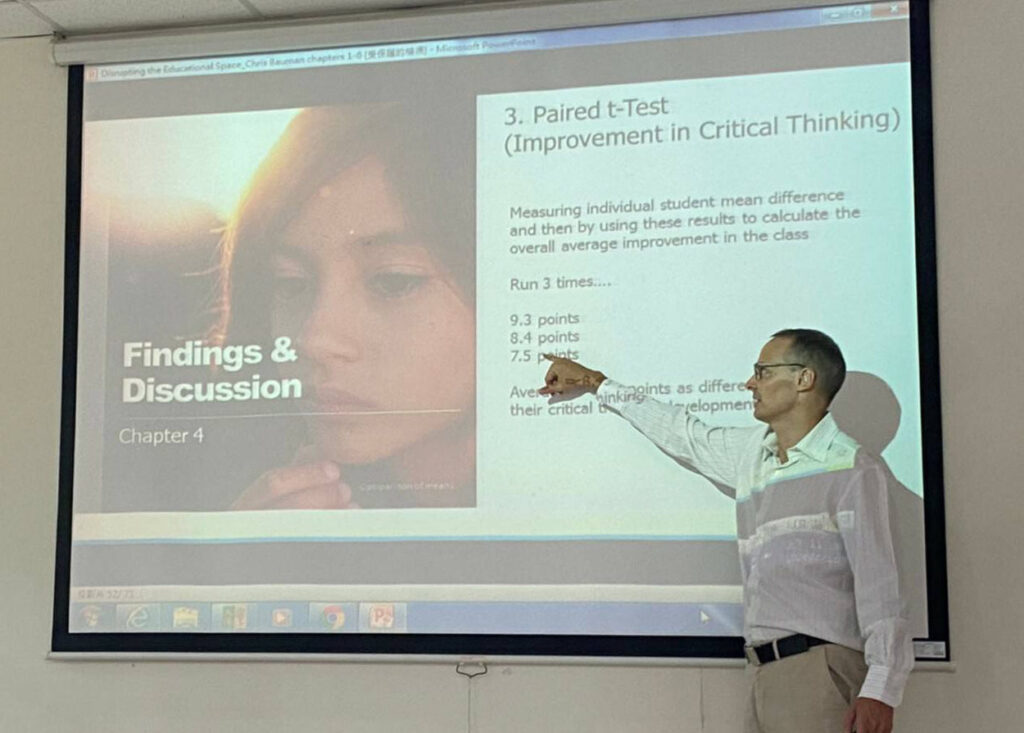 After graduating with a Master thesis in higher order thinking from Wenzao Ursuline Univerity, I have developed blended learning courses that create teamwork, learning agency, computer skills, problem solving and creativity as a consequence of getting students to think more.
One of the sources of this inspiration came from the baseball field of all places. On this day the students in my charge were all professional athletes who were struggling to develop their second language skills in the classroom. They were despondent and not wanting to participate until the captain of that team interjected. He was only a 16-year-old student, yet he understood the critical need to develop English skills for both himself and others in the room. He was the motivation for others and their inspiration to improve.
From that day on, I realised that in unity individuals can become stronger. I have since added teamwork as an essential component of every critical thinking course that I teach.
As an Australian living and working in Taiwan, I communicate in both English and Chinese, finding inspiration in the outstanding achievements of my students that extend far higher than previous expectations.
One of my past students, then only grade 8, wrote six pages of perfectly crafted text for her final submission that read like a Harry Potter novel.
Instructional Designer
Instructional Design is the process of using our knowledge of how people learn to guide our choices of instructional sequences and strategies to meet the needs of the learners and desired learning outcomes.
Instructional Design can be applied to anything that involves Human Performance Improvement. The Instructional Designer is a learning expert who can use their knowledge of the principles of learning and instruction to find the optimal method of instruction. This means finding the most effective, appealing and cost-effective solution. The Instructional Designer analyses the instructional problem, the task, learning needs and learning environment. By clearly defining the learning objectives the Instructional Designer can sequence the content and choose strategies to meet the learning goals. These decisions are based on both knowledge of proven learning strategies and practical experience.
An Instructional Designer can:
Analyse learning needs and then systematically develop instruction.
Study instructional theories, tools and resources to develop methods that facilitate learning
Use current research in educational psychology, educational theory and systems analysis to ensure the most suitable teaching methods are used
Base their decisions on proven instructional design methods
Use pedagogically sound teaching methods and the latest technology to design effective learning products
Draw from their deep knowledge of the various strategies and technologies that can be applied to course design
Work with Subject Matter Experts (SME) or "content specialist"
Create:

Online and distributed learning courses
Tutorials
Workshops
Training manuals
Seminars
CD or DVDs
Assessments

Plans and implements the most effective training strategies
Integrates feedback, student support, assessment and course evaluation into the training program
Works with multimedia designers and programmers to implement the design
Evaluates the effectiveness of the learning product